AVXS-101 (officially onasemnogene abeparvovec, sold as Zolgensma®) is a biological drug developed by the US company AveXis to treat spinal muscular atrophy. It belongs to a class of drugs called gene therapies, or therapies that contain synthetic DNA that partly replaces or adds to the patient's natural DNA.
As of January 2020, AVXS-101 is approved in the United States for use in children with SMA under 2 years. Approval procedures this side of the pond are still ongoing with the EU/UK approval expected around March 2020.
How does it work?
A single dose of AVXS-101 contains trillions of specially crafted viral particles that carry a synthetic SMN1 sequence (a transgene) inside a typical viral shell (capsid). Upon administration, these modified viruses "infect" neuronal cells with the SMN1 transgene. The transgene then starts working within the cell to produce fair amounts of SMN protein exactly the way a natural SMN1 gene would.
In this way, by restoring the cells' ability to produce SMN protein, AVXS-101 addresses the root cause of spinal muscular atrophy, that is the deficiency of SMN protein.
Note that AVXS-101 is a treatment, not a cure – even though it prevents the death of motor neurons and allows them to function, AVXS-101 does not revert the atrophy that might have occurred before treatment. Nevertheless, the majority of treated children tend to improve rapidly due to their natural mobility and the intense physiotherapy that they usually receive.
AVXS-101 was first administered to a human in 2015 and so it is not known how many years the therapeutic effect will persist. Because motor neuron cells do not divide and normally survive throughout the entire human life, many doctors assume that a single injection of AVXS-101 will have a therapeutic effect throughout the lifetime.
The virus used in this therapy belongs to the class of viruses called adeno-associated viruses (AAV) which are common in the environment and do not usually cause diseases. AAV viruses also are called non-integrating viruses. So, even though the SMN1 transgene is placed inside the cell nucleus, it remains separate there and does not integrate with the human DNA. The genetic modification brought about by this gene therapy does not get passed on to children.
Methods of administration
AVXS-101 can be administered in a number of ways.
Intravenous administration
AVXS-101 is administered using an intravenous drip over the course of one hour. This method causes the virus to distribute evenly throughout the entire body and is suitable only for young children up to approximately 13.5 kilograms. Intravenous administration was the first method successfully tested in humans. Based on the results of three clinical trials, Avexis filed for approval of this intravenous treament in the European Union, Japan and the US. The US approval came in May 2019 and the drug can be used there to treat symptomatic and presymptomatic children with SMA under 2 years. EU/UK approval is expected around March 2020.
Intrathecal administration
If the body weight exceeds 13.5 kilograms, AVXS-101 cannot be administered intravenously as the required amount of virus will be too toxic. In such patients, intrathecal administration is being studied – the drug is administered in the spinal cavity, through lumbar puncture, much like Spinraza. Clinical trials involving this method have started, although toxicity findings in laboratory animals forced the company to suspend trials in late 2019.
Effects
The first clinical trial of AVXS-101 started in May 2015 and included 15 babies with type 1 SMA. The first three babies received intravenously a lower dose of the virus; the following 12 received a dose several times higher.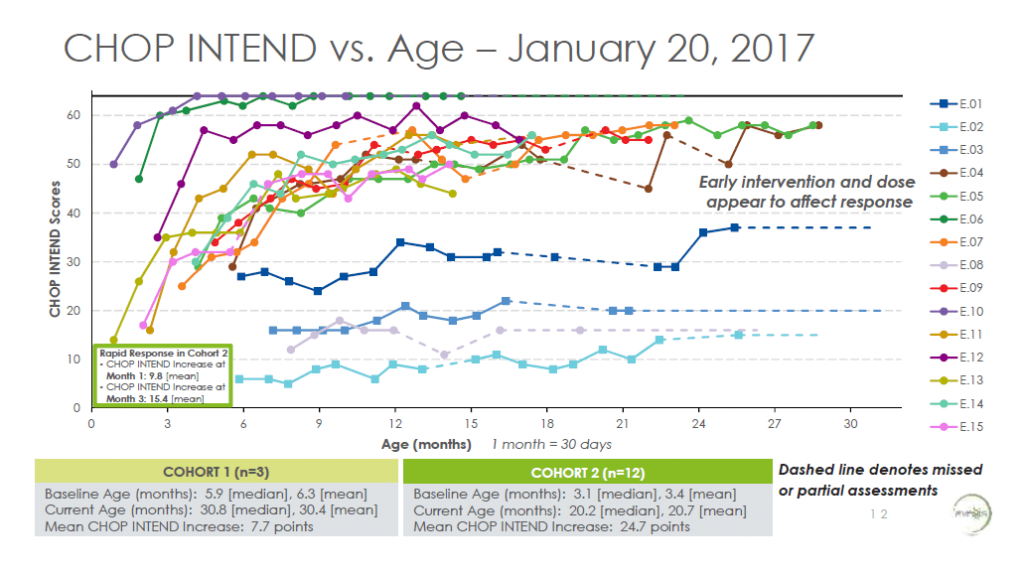 As can be seen on the chart above, the three children on lower dose remained stable since the injection. On the other hand, those who received higher dose witnessed dramatic improvement of muscle function. After 18 months from injection, the strongest two SMA 1 children could walk and run independently and most of the remaining ones were able to sit without support. The video below, published in October 2016, shows the changes after AVXS-101 treatment:
Safety
No drug-related serious adverse events have been reported to-date (but see below). Adverse events included elevated transaminases (liver enzymes) that require symptomatic treatment with steroids, sometimes for extended period of time (6 months or more).
There have been two deaths of SMA type-1 children treated with AVXS-101. One was determined to be linked to the natural progression of SMA and thus not connected with the therapy. The cause of the other, more recent death was initially linked with gene therapy, however an autopsy ultimately did not confirm this.
One important limitation of AVXS-101 is its immunogenicity. Often a prolonged contact with AAV9 virus elicits an immune response – it is usually not noticeable clinically but it results in creation of AAV9 antibodies. This fact makes any redosing of AVXS-101 practically impossible, even if the drug was to lose efficacy over years, as the virus will be instantly neutralised by the body. It also means that people who have previously been in contact with wild-type AAV9 virus might not receive AVXS-101. Around 50% of adults and a small percentage of children naturally have antibodies against AAV9 and cannot receive this gene therapy treatment nor any other treatment that uses AAV9 viruses.
In October 2019, the company disclosed adverse effects on spinal neurons in lab animals when the treatment was administered intrathecally.
TreatSMA
TreatSMA liaises with AveXis and NICE as regards the regulatory pathway of AVXS-101 in the UK. We have filed our comments as regards the appraisal, arguing that AVXS-101 should be appraised as a treatment for children irrespective of SMA type, as against the NICE proposal that it should only be a treatment for type 1s.