AVXS-101 is the name of an experimental medicine for SMA being developed by a US company Avexis. AVXS-101 belongs to the class of gene therapies, or therapies which permanently modify human DNA. AVXS-101 brings the missing SMN1 DNA sequence (a SMN1 transgene) to the human body by infecting it with a virus that carries the missing sequence.
Because most neuronal cells survive throughout the entire life of the human, it is assumed that a single injection of AVXS-101 will have a lasting effect.
AVXS-101 was also formerly called ChariSMA.
Effects
The first clinical trial of AVXS-101 started in May 2015 and included 15 babies with type 1 SMA. The first three babies received a lower dose of the virus; the following 12 received a dose several times higher.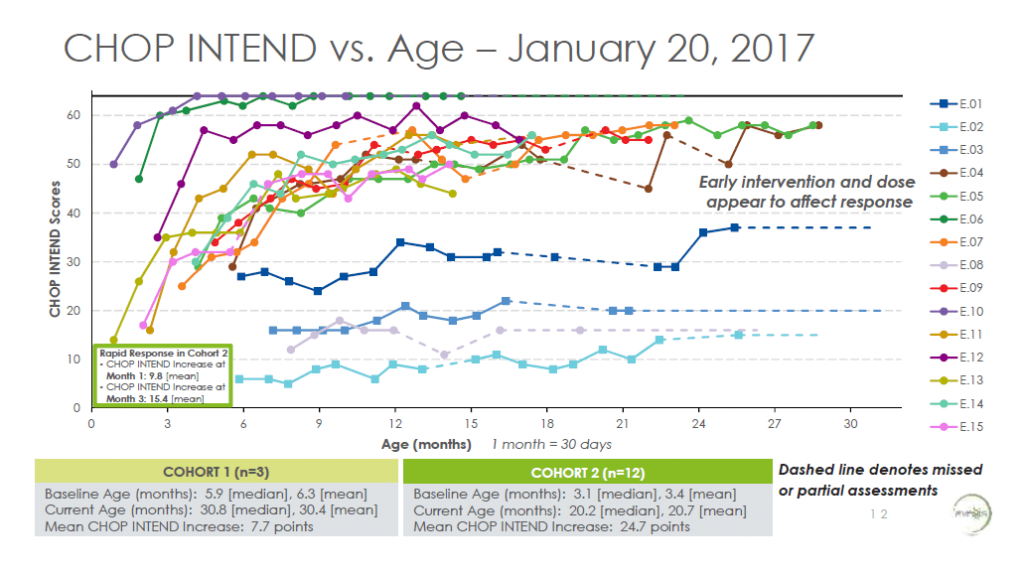 As can be seen on the chart above, the three children on lower dose remained stable since the injection. On the other hand, those who received higher dose witnessed dramatic improvement of muscle function. After 18 months from injection, the strongest two SMA 1 children could walk and run independently and most of the remaining ones were able to sit without support. The video below, published in October 2016, shows the changes after AVXS-101 treatment:
Clinical trials
The above clinical trial has been completed in September 2017, following which Avexis announced plans for two final ("pivotal") clinical trials of AVXS-101 in type 1: a US trial and a separate European trial. As of September 2017, both are yet to start.
Work on trials in SMA type 2 is also under way.
More information