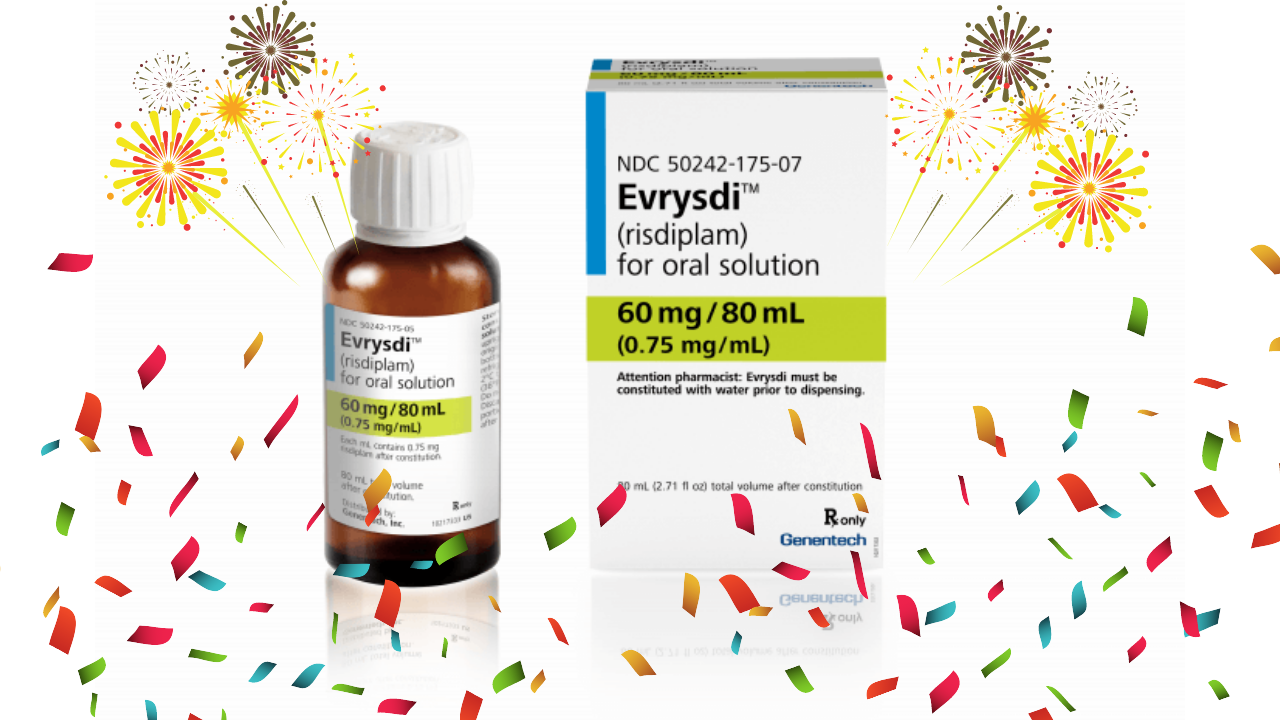 Managed Access Agreement (MAA) for Evrysdi (Risdiplam) for 5Q SMA type 1, 2 and 3.
We are so pleased to announce that NICE, NHS England and Roche have reached agreement on a Managed Access Agreement (MAA) for Evrysdi (Risdiplam) for children and adults with type 1, 2 and 3 SMA.
The purpose of the MAA is to ensure access to treatment for the SMA community whilst further data is collected. The MAA will run until 2024 at which time Roche will resubmit an application, with the MAA data collected, to NICE for approval.
Now to the important bit, with regards to eligibility. It has been approved for 5Q SMA (type 1, 2, 3 and presymtomatic and 1-4 SMN2 copies) and ALL AGES OVER 2 MONTHS OLD. This is fantastic news for the community. It's important that we draw to the fact that there is a criteria for Patient Eligibility and Stopping Criteria which we will detail below, however, as an organisation, and as community members, we have negotiated and believe these are fair. We believe that the setting up of a clinical panel to oversee any stopping criteria challenges is the best way forward, and decisions are made purely on clinical grounds.
We are all so pleased and excited to bring you this news This has been a long battle but we now believe that treatment is available to all of the SMA community in one form or another, and for those few who sit outside of the eligibility criteria, they also have the ability to be heard to determine whether treatment would help them.
Patient Eligibility
Key patient eligibility criteria to start treatment within managed access include:
Patient meets one of the following criteria:

Clinical diagnosis of SMA type 1, 2, or 3.
Pre-symptomatic of SMA and has been confirmed to have SMA via genetic testing and has one to four SMN2 copies.

Risdiplam is used as a monotherapy.
Must not have had successful treatment with onasemnogene abeparvovec. (Zolgensma)
No permanent ventilation (≥16 hours/day for 21 consecutive days in the absence of acute reversible infection)/ tracheostomy requirement at baseline. Patients who do not meet this criterion but otherwise meet the eligibility criteria should be discussed with the NHS England Clinical Panel. (If you are >16hr ventilated and already on Risdiplam via the EAMS scheme, please keep reading for more information for EAMS patients)
Mandated data items have been collected prior to starting treatment within this MAA (see section 7, Outcome data). Patients who have started treatment for SMA prior to this MAA are not required to repeat an assessment if a previous assessment has captured all mandated data items (see table 2) within the last 6 months.
Patient/carer has signed the 'Managed Access Patient Agreement' and agreed to the associated monitoring, clinical assessments and sharing of data for the purpose of the MAA (see section 10, Patient consent).
Clinician confirms they:

will submit data to SMA REACH as set out in the DCA.
have made the patient/carer aware that there are other treatments for SMA, which may be more suitable for that patient.
confirm annually, via completion of an addition Blueteq form, that the patient continues to receive benefit from treatment.

Risdiplam will be otherwise used as set out in its Summary of Product Characteristics (SmPC).
Stopping Criteria
If a patient meets any of the following stopping criteria the treating clinician should decide whether to terminate or continue treatment:
the patient is diagnosed with an additional progressive life-limiting condition where treatment would not provide long- term benefit such as terminal cancer or catastrophic brain injury.
the patient uses a different disease-modifying therapy to treat SMA.
the patient/family/carer withdraws their consent or is unwilling to comply to the associated monitoring, clinical assessments or sharing of data for the purpose of the MAA.
the patient is not receiving benefit from treatment, as confirmed either by the annual additional Blueteq form or by meeting any of the stopping criteria within Table 1, Endpoints, assessments and stopping rules.
However, the good news about stopping criteria is that the clinician has some input, and it can be referred to panel if it is felt necessary.
You can read the full details of the Managed Access Agreement on the NICE website.
We also asked NICE for some clarification on certain areas we felt were not clear in the document, please see below.
Do existing EAMS patients, who would be eligible for treatment under the MAA, migrate from EAMS to the MAA?
"Patients receiving risdiplam through EAMS will continue to receive risdiplam. EAMS patients, including those that do not meet the MAA eligibility criteria, will be included as part of the DCA. Patients who do not meet the eligibility criteria will not have their data collection mandated and will continue to be treated with risdiplam in line with the agreements between Roche and NHS Trusts. Patients who meet the eligibility criteria will move from the EAMS scheme to the MAA."
If a patient is currently receiving nusinersen and wishes to switch either because the treatment has been unsuccessful or is no longer tolerable due to its administration, can they switch to risdiplam?
Likewise, if a patient finds minimal benefit from risdiplam are they able to switch to nusinersen?
What is the process for switching in either direction if so and how many times?
"The committee heard that that repeated treatment switching would only be expected in exceptional circumstances, related to issues such as fertility or side effects. There are currently no specific criteria for treatment switching and individuals should discuss the best treatment option for them with the multidisciplinary team in their specialist neuromuscular centre. There would usually need to be a gap of four months between a maintenance dose of nusinersen and treatment with risdiplam. The NHS England Clinical Panel can offer advice to treating clinicians about switching between these two treatments."
If a clinician feels it would be beneficial for a patient to be on both, is that an option?
"Risdiplam is expected to be used as a monotherapy, and not in combination with nusinersen or onasemnogene. Exceptionally, if a patient's treating clinician believes that, following treatment with onasemnogene, there has been a deterioration in motor and/or respiratory function, they may refer the case to the NHS England Clinical Panel. The Panel will offer advice to the treating clinician about whether or not it is clinically appropriate for treatment with nusinersen or risdiplam to be initiated (or restarted)."
A point of clarification, 2.10, should NICE not recommend risdiplam following the DCA and refreshed economic model, those patients receiving risdiplam at that point will still be able to receive treatment up until such time that both the patient and clinician agree to stop treatment?
"That is correct, if at the guidance update NICE publish negative final guidance for risdiplam existing patients may continue to receive treatment until they and their treating clinician consider it appropriate to stop. The company and NHSE&I have agreed how access to treatment will continue in these circumstances: this is detailed within the commercial access agreement."
Following the huge delays in the implementation of nusinersen following the agreement of the MAA, we would like to recommend that the MAOG is set up as a matter of urgency to ensure that patients receive treatment in a timely fashion, which is contrary to what happened with nusinersen.
"Once the guidance is publicly available the NICE Managed Access team will set up the MAOG. We do not expect any delays in getting this group set-up and operational."
If, in the belief of the clinician, that a contracture has developed and therefore a patient cannot continue measuring against previous milestones, this will not be considered part of the stopping criteria? The particular domain will be removed and remaining measurements will continue to be assessed?
"Contractures are not included within the starting eligibility criteria for risidplam. For the measurement of motor function, which remains part of the stopping criteria, if contractures develop or fracture occurs then the unmeasurable domain of the scale is removed and the delta change of remaining domains are scaled up to ensure the total achievable score of the scale remains."
We hope these questions and answers are helpful, however if you have anymore questions please do not hesitate to email us on [email protected]
We would like to thank the community for continuing to fight, fill out surveys and for your support throughout this journey. We would also like to thank all the panel members including TreatSMA Trustees Andi and Lucy for representing the community as 2 of the 3 Patient Expert seats on the panel.
This is a massive step forward in getting Treatment for All, which is what we set out to do. Congratulations to all!