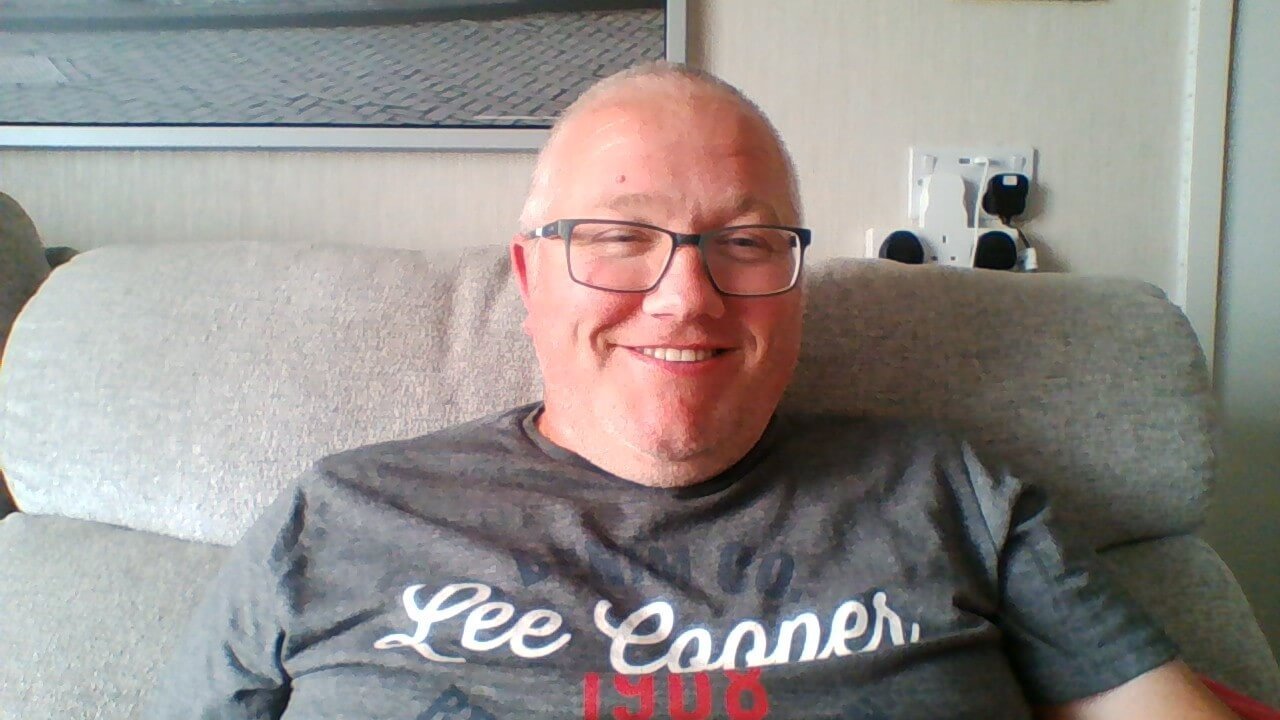 Excitement as adult community member receives first Spinraza loading dose!
"When treatment was discussed in January and after the assessment was carried out I felt pleased but with the current situation (COVID-19) I thought it would never happen until I received the phone call telling me that it was going ahead and they had spaces at the RVI to do the treatment."
TreatSMA are excited to announce that Lee, an adult SMA community member, has received his first Spinraza loading dose in Newcastle RVI this week. This is fantastic news that shows hospitals are moving in the right direction in facilitating treatment for everyone who meets the current MAA criteria.
Lee is a 43 year male living with SMA type 3 in County Durham with his fantastic, supportive wife, two adult children and two beautiful granddaughters. His diagnosis of SMA Type 3 is very recent (December 2019) after being initially diagnosed with Limb Girdle Muscular Dystrophy in 2014. In his late teens he used to enjoy doing lots of outdoor activities as well as ice skating and playing rugby. Looking back on things now he noticed that these things were getting harder to do overtime.
In 1998 Lee was involved in an RTA where he broke his right leg. This needed to be pinned but Lee had problems with this, and the pin needed to be taken out 12 months later. Since then he started having mobility issues e.g. climbing stairs and the occasional fall. At first, they blamed the RTA for the ongoing deterioration in mobility, but in 2014 Lee's wife insisted that things could not continue and needed to be investigated further as falls were becoming a weekly occurrence and he was struggling to do his day to day job as a bus driver.
After being wrongly diagnosed with LGMD, it wasn't until December 2019 that he got the SMA Type 3 diagnosis. After this, Lee attended an appointment in January at the Centre for Life where his condition was discussed, and he was told that there may be treatment available but that would be down to funding and criteria. A physical assessment was carried out that afternoon. Lee got a call Wednesday 27th May to say that treatment was available for him to start on Monday 1st June.
Lee also has obstructive sleep apnoea for which for use a CPAP machine, this is monitored as respiratory issues are common with SMA and uses a powered wheelchair outside of the house.
Lee explains how he found the assessment process in hopes that this may give some insight for adults who are currently waiting to be assessed,
"The assessment process in all wasn't too bad, but the physical part was very hard as some things that I was asked to do I couldn't do so don't feel that you have to complete it all to get the treatment, you just need to do want you can."
He also has an important message for adults waiting for assessments:
"Be patient as once the results from these first few treatments are back hopefully it will be rolled out quickly as the actual prep and injection do not take long at all. In my experience it was pretty pain free, but you have to be committed to the treatment process and not have high expectations of the outcome as this is different for every person."
Lee has very kindly offered to do a live Q&A webinar for adults with SMA who have any questions regarding Spinraza this will take place on Sunday 14th June 2020 at 7pm. You will be able to ask questions live, or you can email your questions to Marni, [email protected] prior to the webinar.