Results are in for TreatSMA's Great Lockdown Bake-off!
Results are in! Thank you to everyone who entered TreatSMA's Great Lockdown Bake-off 2020. Everyone's entries were truly amazing – guest judge Tom Herbert had a tough job on his hands picking a winner.
Thank you to everyone who took part in our first TreatSMA's Great Lockdown Bakake-off. The TreatSMA team, and guest judge Tom Herbert were extremely impressed with all the effort put into each entry!
Speaking of Tom, we have a message from him for you all:
Hello, what a fabulous competition. So many brilliant and colorful entries. Looking through them all and reading the heartwarming stories has been a real treat and I've looked at so many delicious photos I feel quite full. Next up the winners. Needless to say its been tough. Anna has helped a lot which helps massively. Some of them it was almost too tough to call and I've simply gone for the cake I'd most like a slice of right now if I could eat it from the screen I would. From that perspective I'm so sorry not everyone can win and some people that entered we're so close there was barely a crumb in it. What I've learnt though in going through them all is that I've a soft spot for chocolate and as a rule I'm not a fan of very brightly colored cakes.
Winners:
Category 0-5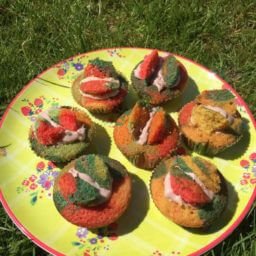 Pelham your rainbow butterfly cakes look such a treat with the jam and butter cream. Ginger would have been a great addition. I like your style. And rather than smarties, how about halved strawberries on top? I think we've a great baker in the making here. You look so happy doing it. Great job. Keep it up.
Category 6-11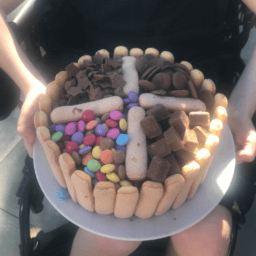 Cameron, you look so happy with your cake. The chocolate sponge looks delicious and good job you made a palisade of sponge fingers around the outside, a tasty way to keep all those treats on top. Happy baking and congratulations on a wonderful and winning entry.
Category 12-16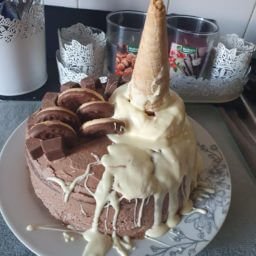 Daisy's MINT CHOCOLATE MELTED ICE CREAM CAKE!!! Wow. You had some very tough competition however your superb sponge with its delicious fillings and carefully arranged treats on top might have won it for you as it was. The splat of ice cream on top of all that is absolutely brilliant. It looks so fun and delicious. Massive congratulations, you're clearly a competent baker and I wish you a life full of fun baking adventures.
Category 17+
Fleur Perry's Chocolate cheesecake [dairy free] Fleur you've some tough tough competition. Turkish delight with dried rose petals so nearly took the crown BUT your modest cheese cake really takes the biscuit. It's so glossy you could see your trophy in it. Fleur you've won. Massive congratulations. I love the way the chocolates luster contrasts with the rough biscuits edge and base. I think that it's dairy free is tremendous. The SMAshed biscuits and thoughtful attention to detail in the recipe and method show how clearly passionate you are. I think it's the perfect depth for a cheese cake and I just know this'll taste amazing. I can't wait to make it myself. Thanks so for sharing the recipe. Again congratulations, and here's to many happy baking adventures.
Congratulations to all the winners! Such a tough competition, all the entries were truly incredible so well done to everyone who entered! We want to say a massive thank you to Tom and his family for taking time to judge and give such lovely feedback to the winners. We also want to thank everyone who entered we hoped and hoped this competition would be a success, and thanks to you guys it was!
TreatSMA Team