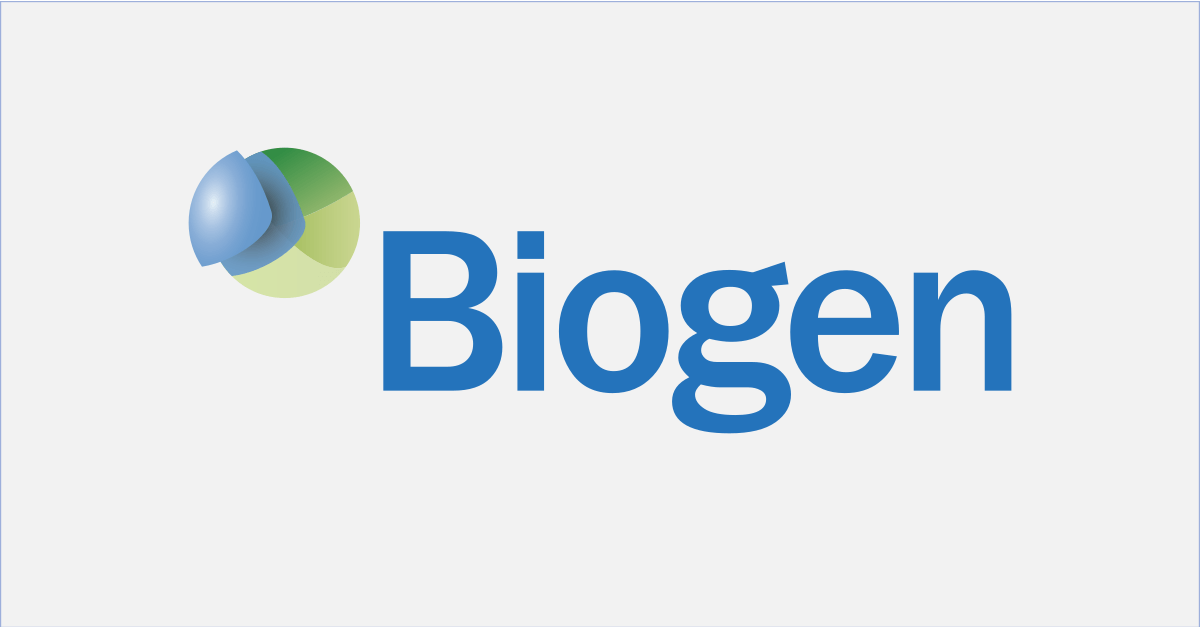 Spinraza in higher doses? Why not! A clinical trial is in the works.
A new clinical trial of Spinraza is about to start in the next few months. Codenamed DEVOTE, it will measure the safety and efficacy of Spinraza administered in much higher doses and to a different schedule. Biogen clearly looks for ways to both improve the efficacy and reduce the treatment burden of treatment.
The trial will consist of three parts: A, B and C.
Part A will investigate the safety and efficacy of a 28mg dose. Six children aged 2–6 recently diagnosed with SMA will receive three loading doses of 28mg instead of four loading doses of 12mg as is the usual dosing. This will be followed by four-monthly maintenance doses of 28mg.
In Part B, which will start  as soon as the six Part A children safely complete the loading doses, up to 126 newly diagnosed children age 0–10 years will be randomly allocated to one of two blinded groups. A third of children will be provided Spinraza treatment in accordance with the usual dosing regimen. The remaining children will receive two loading doses of as much as 50mg of Spinraza, followed by four-monthly maintenance doses of 28mg.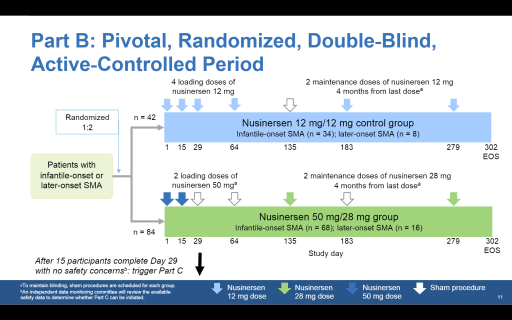 Part C will start as soon as 15 participants complete the three loading doses and there are no safety concerns. It will enroll 20 participants – children and adults with later-onset SMA – who have already been treated with Spinraza for at least a year using the normal regimen. The objective is to test a switchover to the high-dose regime. Participants will first receive a 50mg dose of Spinraza followed by maintenance doses of 28mg.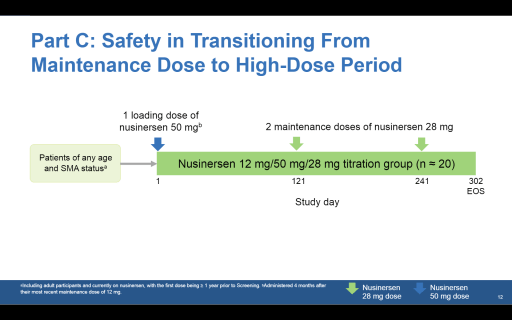 The outcomes will all be based on functional improvements. All participants will be regularly tested on a variety of functional scales.
Biogen plans to open the trial in as many as 50 sites around the world. We don't yet know whether any UK site will take part.