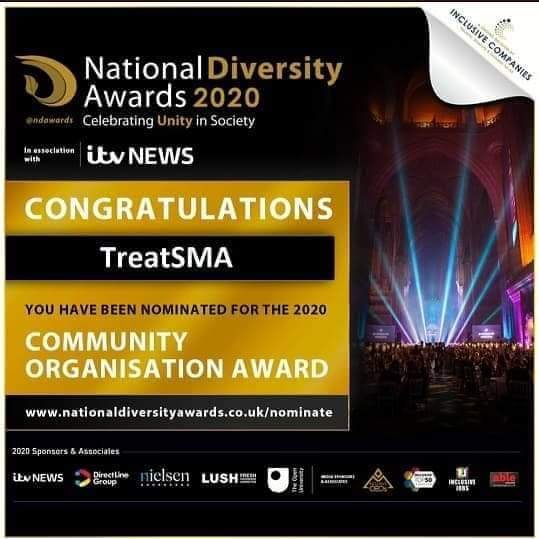 We are very humbled and proud to be nominated for the Community Organisation Award at the annual National Diversity Awards 2020. We have been nominated by you, the community, who stood beside us, and fought for what we believed in, for what we all believed in. Without your drive and your spirit, we would not be in the position we are today.

In 2017 there seemed to be no hope for treatment for children and adults with SMA, but with a strong community spirit and fighting for what us and you believed in, children and adults who stood beside us and campaigned
Through
Resilience 
Effort
And
Teamwork
Spinal
Muscular
Atrophy
now have hope for treatment 
We also know that our job isn't done yet, as we strive to get more people into ongoing treatment and also work tirelessly behind the scenes to get new and upcoming treatments made available to those who fall out with the current MAA.
We will not give up, and with our small team of trustees and co-ordinators, we will continue to strive to get "treatment for all", which has always been our vision from day one.
We believe that this award belongs to the community, and although it is TreatSMA who have been nominated, we know that without the community believing in us, we wouldn't have gotten this far, and for that we will always be thankful to you. You got behind us during the 3 NICE protests/vigils. You got behind us on a massive scale when we asked you to #WearYourHurtOnYourShirt, which was without a doubt, the largest campaign ever seen in the UK for a rare neurological condition and played a HUGE part in the approval process for Spinraza. You got behind us when we asked you to show NICE and NHSE your disapproval by having #EggOnYorFace, which you certainly did, as between us we managed to load up the email boxes of the powers that be. You guys have been amazing along our journey so far.
Please show that spirit again, and vote. This award is for all those that stood up for what they believed in. You, your relatives, friends and neighbors. We stood together in unity and achieved so much.
So please follow the steps below to secure us a place in the final and get the exposure and awareness  SMA and the SMA community deserve and more importantly NEED as the fight goes on.
Nominate/Vote for us. Please note that the quality of the vote is also considered, so please be as descriptive as possible.
Get 10 relatives/ friends/ colleagues/ neighbours to vote for us. 
Read the press release and along side a short story all about you and SMA then send it to all your local and national press contacts.
HERE IS THE LINK TO VOTE
HERE IS THE PRESS RELEASE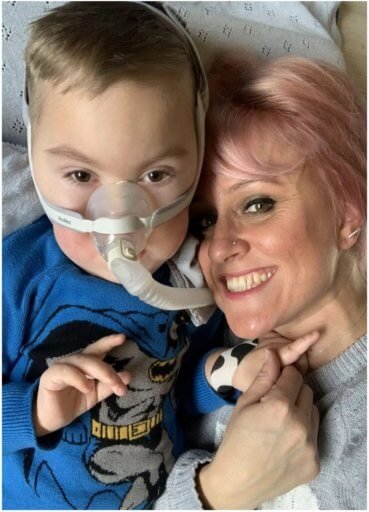 Also our very own Trustee "Kelly Jones" has been nominated for the Positive Role Model Award
Please also show your support by voting for Kelly HERE
Thank You
The TreatSMA Team
Come and join in the community spirit and like our event to get the campaign going. Click here to get involved.