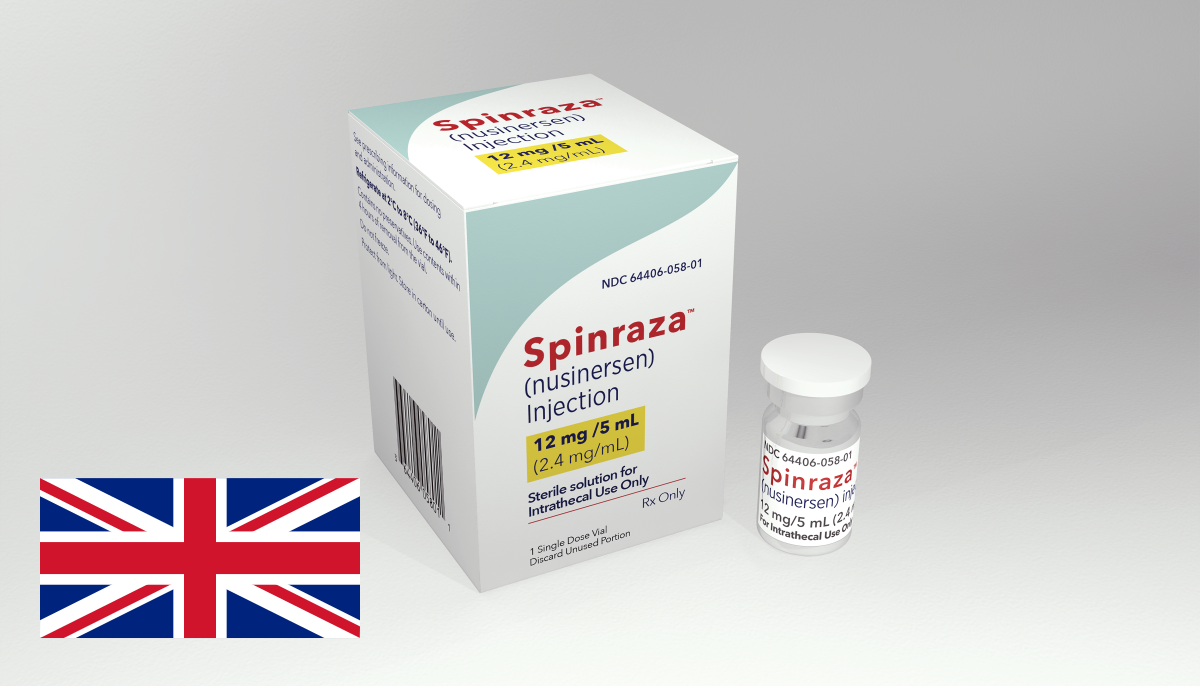 New MAA with revised entry criteria released by NICE
TreatSMA response to the latest release of the MAA released by NICE today

Dear Community,
As you know, we have continued to work with NICE, NHSE and Biogen to make amendments to the current Managed Access Agreement (MAA). Our focus has been on the exclusion criteria which we believe everybody agrees, are unreasonable and are not based on solid clinical justification.
Our mantra from the very beginning has been that TreatSMA fights for all to have access to Spinraza, so the MAA entry criteria were unacceptable to us, as it was to the rest of the community. We knew that if no action was taken and the MAA was approved as written, then those currently excluded would have no opportunity for treatment for at least the duration of the MAA, which is 5 years.
Together with Spinal Muscular Atrophy UK and Muscular Dystrophy UK we have put forward a credible list of recommendations to NICE with aim to modify MAA without formal appeal, this proposal was backed by patient advocacy groups and clinicians. Sadly, despite the letters written by PAGs and leading clinicians we did not see any progress in the negotiations and therefore we have we acted, in our fight to gain access for everybody, by launching a formal appeal focused on the exclusion criteria. This was followed by the #EggOnYourFace campaign supported by community, MPs and media.
Following the appeal submission, we received a letter from Professor Tim Irish, Vice Chair at NICE, who scrutinised our arguments and considered them valid. Our appeal focused not only on the fact that the available evidence had not been used appropriately by NICE but also that the guidance violates the Equality Act 2010. Professor accepted both these grounds, thereby justifying our appeal decision.
We were resolute in our position that the MAA as it stood was not acceptable and therefore we fully intended to see the appeal through to its conclusion if the MAA remained unchanged. However, after submitting the appeal and a number of meetings and conversations following submission, NICE and NHSE agreed to a number of the proposals that PAGs had made.
A new MAA with these changes was provided to us, and while it didn't address all of the concerns that we had highlighted, it went a long way towards them. Since the MAA has been modified, our appeal has been invalidated as no longer relevant. So while officially we didn't win the appeal, because NICE made these changes before we got to that stage we believe that we effectively succeeded by submitting the appeal.
Changes we secured
It is very important to remember that MAA allows for the first and currently only treatment for SMA to be available through NHS to nearly 500-600 patients! In its own right this is a huge achievement by all involved in the process.
While we didn't get all the amendments we requested, we were able to achieve significant changes to the MAA. The first is a legally binding clause which gives us the opportunity to review the entry criteria when new evidence becomes available. The reason why the treatment isn't being made available to all is because of a lack of clinical evidence in certain subgroups despite the broad recommendation by EMA and availability of real-world evidence. Had we not asked for this review clause, then the MAA would have been fixed for the duration of the five-year agreement.
We anticipate the first review being in around 12 months because:
Upon commissioning the treatment the NHS now needs to set up centres to administer treatment. For the paediatric population, 16 centres have been set up and are operational for EAP, but only a small subset of those have the resources in place to match the requirements of the MAA. At present, there are no centres available to undertake treatment with adults, and therefore it is going to take some time before these are operational.
Clinical experts, NHSE and TreatSMA believe that it will take at least 12 months to treat the initial prioritised cohort of the population.
There is also limited expertise of this procedure in more complex cases where a person has a spinal fusion which requires CT guided injections, etc. We have already seen that there is clinical prioritisation being used to ensure that those most at risk receive treatment as soon as possible and that not all those eligible will get access immediately.
By securing a review of the criteria we have a good chance of successfully securing further changes as there will be extra data on efficacy and expertise within the UK and further afield to help with that review.
The pressure from PAGs, community and clinicians have also resulted in the inclusion of type 3 paediatric population who have lost the ability to walk in the last 12 months. This is compared to the original clause which did not allow any such children to be treated. We did challenge this to include adults, but NHS England were very clear that they were not prepared to make any additional concessions.
Finally, we also managed to secure changes in the wording relating to spinal fusions and contractures. Previously the wording was somewhat prohibitive, stating that if someone had either of these, it made treatment unsafe and therefore would not be available. Now NICE have loosened these words and added: "at the opinion of the treating clinician". We believe this is also an important step forward because now it gives your clinician the opportunity to decide what is best in the individual's circumstances. This increases the power and importance of the local clinician.
All of these secured changes are fantastic news because it expands access to elements of the population previously excluded.
Difficult decision
As explained earlier, the changes invalidated our original appeal because the issues that we were appealing against, to some extent, had changed. As you will have seen, the new MAA entry criteria have been released with the changes described above. This is where we have a difficult decision to make. Do we appeal the revised criteria or go with what we have secured and continue to advocate for those still excluded?
If we launch another appeal to secure further changes it would likely be at least 3 months before we received an outcome. Depending on the outcome, the MAA most likely would require renegotiation between NHS England and Biogen which again could take months. Our fear, worst-case scenario, is that NHSE and Biogen wouldn't be able to reach a new agreement and that access would be unavailable for everybody taking us back to square one. As we all know time is critical for the SMA population, every delay means deterioration of those who could start treatment now based on the new criteria.
We have a decision to make, risk significant delays to treatment for those currently eligible, potentially risk losing treatment for everybody or not launch another appeal. Over the last few days, it has become apparent that NICE and NHSE are not prepared to accept any further changes to the core part of the criteria.
After much discussion, now we have secured the changes above, in particular, the opportunity to review the agreement in the future, we have decided that we will join MAA agreement and ensure that progress is made in establishing centres and collecting further data in the next 12 months thus giving a better chance to those excluded to become included upon future MAA review.  We feel there is too much risk both in terms of the population who are eligible and the delays along with the potential to lose access to the treatment for everyone. Knowing that it would be unlikely that anybody currently not eligible would be unlikely to be prioritised as urgent within the next 12 months we felt this was the safest action to take.
This has been a hugely difficult decision and we appreciate that some within the community may feel let down by the decision. However, we had to make the decision based on the information and evidence we have been presented over the last couple of weeks and balance that against those in the population who would suffer harm from further delays, particularly the type 1 population, as we approach winter, we feel we cannot justify delaying treatment by submitting a new appeal.
While we are delighted that the MAA has been put in place, we have stressed to NICE that we believe that there is sufficient evidence that Spinraza is effective across its entire scope of marketing authorisation and therefore the entry criteria is still somewhat short from where we want to be. We, along with clinicians, continue reaffirm our position that Spinraza should be available for all and that TreatSMA believe the exemptions are still arbitrary and not founded on clinical practice, corroborated by leading clinical experts. We will continue to work with clinicians to ensure that evidence is collected to expand access.
The campaign continues – Spinraza for All
While we have secured the above successes we know that we are still short of our original aim of enabling the whole SMA population to receive treatment. We are going to continue to do everything we can to ensure that everybody who wants treatment can receive it through whatever route possible. We are exploring what options there are around relocating, we will continue to help and advocate for those who are on the borderline of the entry criteria and we will continue to work with clinicians to ensure that we capture as much data and expertise as possible ahead of the first review.
Original announcement and MAA put us all in a horrible position. The community that has campaigned so hard, so well, and most importantly, so together, but was suddenly divided by the MAA criteria. It's inevitable that people are concerned for their loved ones, and we understand that there is always going to be some resentment from some corners on the decisions we have made. However, we must remember, that while this decision initially may disappoint some people, this isn't the end of the road! While a large number of people will now be able to receive treatment, and that in itself is fantastic, that doesn't mean that we are forgetting about those who are currently ineligible.
Therefore, we urge you, as the community, to help us achieve access to the treatment that all people with SMA deserve, regardless of age or type. However, we must come together to make this happen, we have got as far as working as one entity, so as painful as it may be, we need to put any divisions aside and get back to doing what we do best, campaigning as one.
We are 100% committed to continuing the push for everybody by using the methodology and tools that have proved so successful over the last 2 ½ years thanks to the support of the community. Only recently did we see Jacob Rees-Mogg MP, raise the issue at Prime Minister Questions with the Speaker going as far as promising that a debate should be made available. We, and others in the community, are already in discussions with MPs about how we can coordinate this and are already putting together a plan for a debate in Parliament and another show of strength from the community. More on this will be announced in due course.
Clinicians are also continuing to support the cause and have agreed to be part of the MAA Oversight Committee advising on changes to the MAA as more evidence becomes available. For example, as new methods of administering the treatment become available, especially for more complex spinal fusion cases.
We all know there are other methods of delivery being used across the world such as intrathecal catheter ports and/or cervical administration. The Oversight Committee will include Patient Advocacy Group representatives on the group, meaning that patient views will be heard.
Summary
Addition of reviews of the MAA as and when new evidence is made available (supported by stronger evidence from those centres outside of the UK) already providing treatment means that the MAA can be modified.
Addition of non-ambulant type 3 paediatric population who have lost ambulation in the last 12 months
Addition of words to strengthen the role of the treating clinician in deciding the impact of spinal fusion or contractures on treatment.
We will continue to work with hospitals to set up older children and adult centres to administer the treatment
We will continue to fight and seek different ways people can receive treatment such as going abroad as well as continue with protests and challenges from the House of Parliament.
In discussion with NICE, we have agreed not to submit another appeal to allow treatments to be started ASAP, however, we have been clear that TreatSMA is still looking at other routes as the current exemptions are arbitrary and not founded on clinical practice, backed by leading clinical experts.
We have made it quite clear to NICE that while we are not appealing we are doing so with a heavy heart as we still fundamentally disagree with the criteria. We are doing so solely to help those populations who are able to receive treatment immediately.
Thank you from TreatSMA
We hope you understand that this has been a really difficult time for everybody involved, but we must get back to campaigning as a single entity to ensure that everybody gets access to the treatment they need. We got this far as a community, acting for a single purpose with a single aim, treatment for all. Some of you are now fortunate enough to be able to receive treatment, we are delighted that you can because 2 years ago it looked extremely unlikely, but remember, at the moment we haven't reached our ultimate goal of treatment for all. So even if you are luckily enough to be able to start treatment, we would urge you to continue to help us and the community on that mission. Only with the support of everyone will we be able to finally secure treatment for all.
As the saying goes, United we stand, divided we fall, there has never been more of a reason to stand together now, as we are so close.
Thank you all for your continued support.
Please find NICE FAD here:
The TreatSMA Team