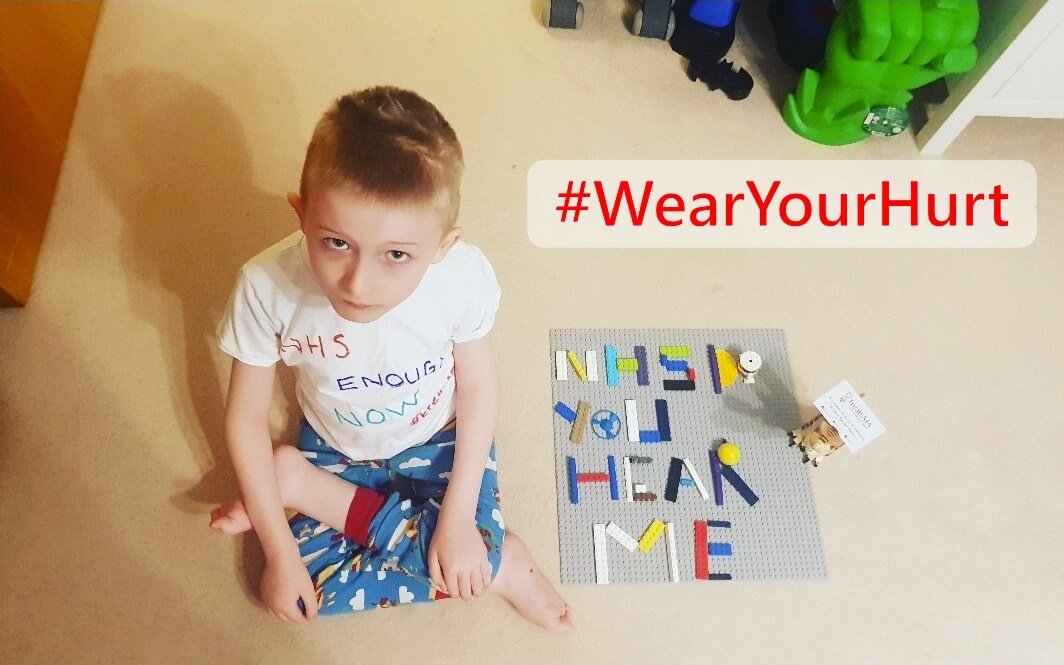 "Wear Your Hurt On Your Shirt" SMA Campaign
You are probably aware, the decision by NICE on whether to recommend Spinraza (nusinersen) for use in the NHS for those with spinal muscular atrophy (SMA) was yet again delayed this week, with what will be the fourth Committee meeting scheduled to take place, in private, next Wednesday 8th May.
We, TreatSMA, think this is outrageous as we have waited well over two years now for the decision makers to make their recommendation, following the European Medicines Agency approval of nusinersen in May 2017.
In those two years, 45 countries worldwide provide nusinersen to treat SMA, with over six thousand children and adults receiving treatment in their respective countries. Meanwhile here in the UK we wait and watch as our children and adults with SMA loose abilities and get weaker as each day passes and children have needlessly gained their angel wings while we have waited on the long drawn out and unsuitable appraisal process of NICE.
We have called upon the SMA community, the public and press to act once more. We are asking the SMA community, friends and family to wear in public on the 7th May a plain t-shirt or top with a personal message to NHS England and NICE telling them we will not wait any longer.
Schools and work places will be getting involved across the country including classmates and work colleagues by doing tops with supportive slogans. Local football teams, relatives , local shop owners, neighbours, local sports teams… everyone is involved.
Each picture will be forwarded to:
We also want the support of the press to run our story on the TV or in newspapers and we ask that you run the story on Wednesday the 8th May 2019 to coincide with the meeting at NICE.
We WILL NOT be ignored, we WILL get our voices heard, we WILL NOT wait any longer.
Please help us give a final push.
Please use these hashtags on every post
#TreatSMA #wearyourhurt #spinraza4all
The three hashtags together tell our story and remember TreatSMA are on instagram and twitter @treatsma