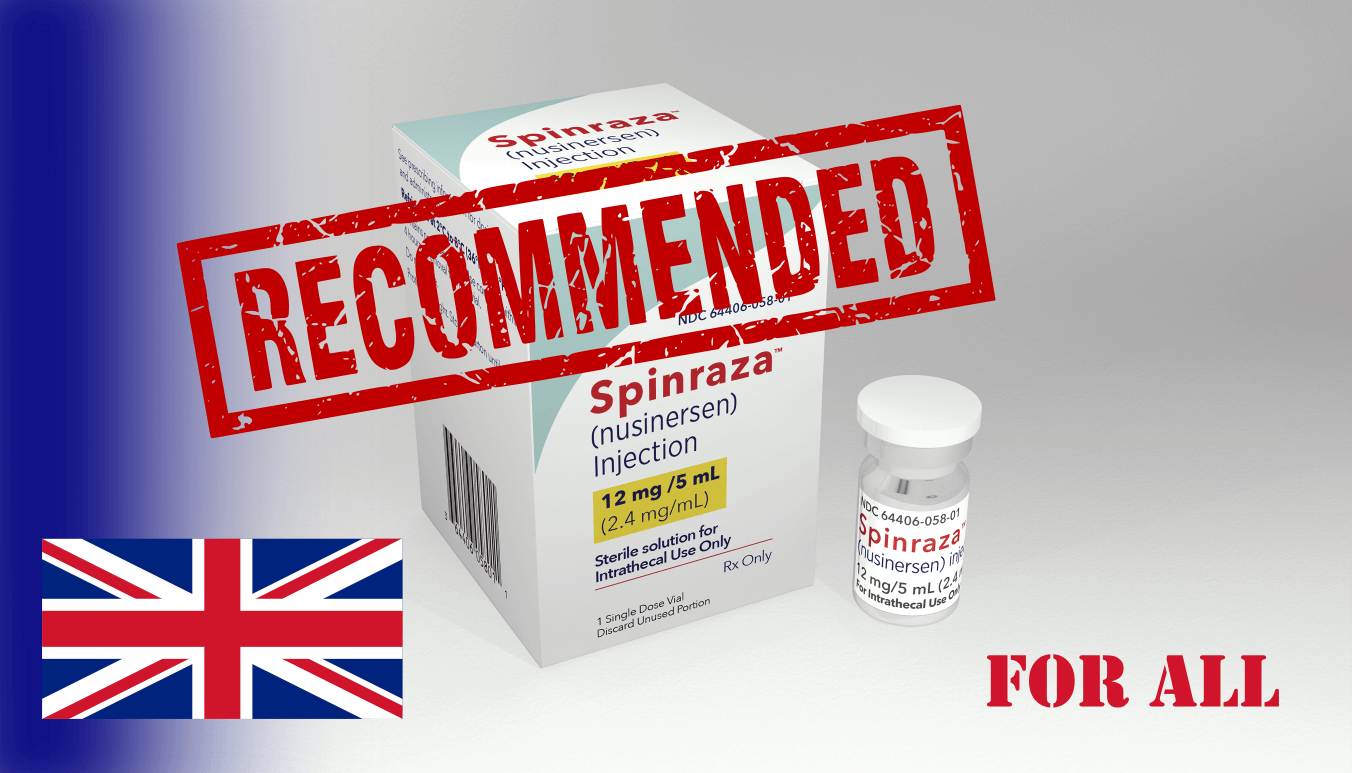 Spinraza will be available on the NHS for everyone!
The appraisal committee at the National Institute of Health and Care Excellence has reached a conclusion to recommend nusinersen (Spinraza®) as a standard treatment for all patients with spinal muscular atrophy. This includes those with SMA types 1, 2 and 3 as well as pre-symptomatic children.
The recommendation is conditional on a Managed Access Agreement being agreed. The detail of the appraisal committee discussion and draft recommendation will be provided in a Final Appraisal Document which is to be published on the NICE website during the week commencing on 27 May.
---
Dear Community,
YOU HAVE WON!
The only reason this is possible is because you have protested with us, because you have sent emails, because you fought! In fact, the media attention and #wearyourhurt campaign supported by you was the decision clincher! So thank you all for the support and be proud to know that you all made a difference.
When TreatSMA started two years ago we believed that Spinraza should be available to all, not just SMA type 1. Our initial efforts at getting the EAP open followed in parallel with our negotiations with NICE to ensure that the STA appraisal pathway was followed as it allowed for access for the broadest patient population. At the end of the day, the long letter sent by TreatSMA to NICE shifted the course of how the treatment were to be appraised.
TreatSMA, SMA Support UK, SMA Trust and Muscular Dystrophy UK then started to work together to provide consultations, campaign and advocate during the appraisal process. The patient experts gave powerful and emotionally charged statements, which made a significant impact on how the NICE committee viewed the appraisal information; and at the end of the day, protests, letters to MPs, countless meetings culminated in one final push under #wearyourhurt in which families and friends expressed their urge for the treatment! Once again, we want to highlight that it was your effort with #wearyourhurt that was a deal breaker. This victory is yours to enjoy!
The Annabelle Rose Foundation stood with us side by side throughout this journey and contributed to every single campaign action – massive thank you to amazing people!
We also want to remember and acknowledge people like Anita Macaulay and all those who lost their lives before seeing the results of their contribution! You will forever stay in our hearts and our lives. Gone, but never forgotten – we thank you.
Finally, want to thank people from NICE, NHS England and Biogen for not walking away from these tough negotiations. All sides have shown amazing strength for their part in crafting out an agreement that benefits the SMA community. You are going to be an undying part of the SMA family.
‒ Your TreatSMA Team