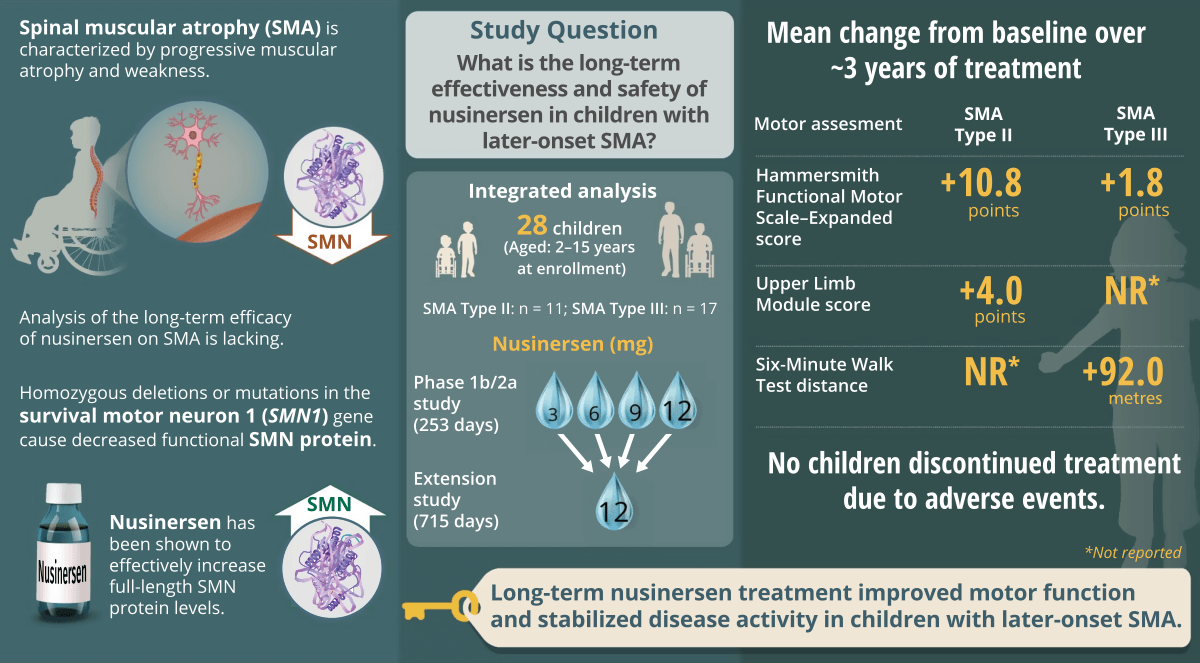 Nusinersen super effective in later-onset SMA!
The study published last week in the respected journal Neurology demostrated that Spinraza (nusinersen) is very effective in treating later-onset spinal muscular atrophy – SMA types 2 and 3.
Researchers reviewed 28 children who were enrolled in the phase-II clinical trial of nusinersen and received the drug for at least three years. A statistical analysis showed that the functional deterioration, normally associated with SMA, has stopped entirely in all the children. Non-ambulant children experienced strong improvement in hand function while ambulant children significantly improved in walk test. All the children also improved on the Hammersmith score, the benefit being more pronounced in type 2 children.
This is nothing short of amazing. The disease that was once associated with continuous deterioration, with no chance of improvement, can now be stopped and reversed! Not a single child deteriorated over three years; instead, all of them experienced life-changing functional improvements.
Going into more detail, ambulant children were able to walk almost 100 metres farther over 6 minutes. This represented a whopping 40% improvement over the baseline – instead of walking for an average of 253 metres, they were now able to make 345 metres in the same time. To put this into perspective, a healthy person walks around 500 metres in 6 minutes.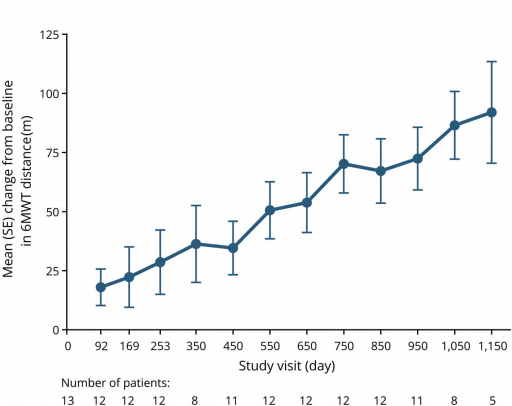 Overall functional improvements measured on the Hammersmith scale also show very good results. Results are even more striking in weaker children, because 11 points HFMS is a lot! The results also confirm the long-held view that in SMA, earlier treatment is usually associated with better outcomes.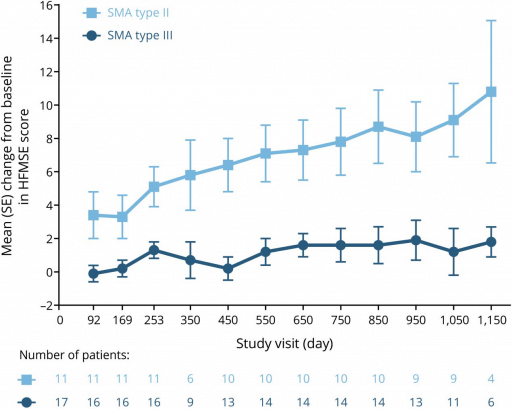 Summing up, increasingly more and more evidence emerges on the clinical efficacy of nusinersen, a ground-breaking treatment for spinal muscular atrophy. It is simply shocking that people with SMA in our country continue to be deprived of access to this treatment.
Read the full article with trial results
Cover image: © 2019 American Academy of Neurology; the original "points" has been corrected to "metres"