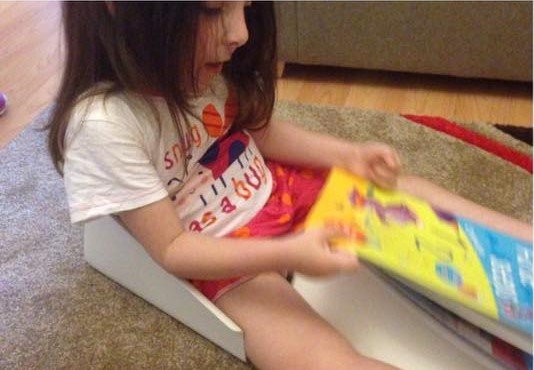 Are you sitting comfortably…
Please note all views are my own and are not affiliated with the company fledglings.
Just the ability to sit is a luxury most of us take for granted and something which a lot of people with SMA find difficult or even impossible. Before finding this product, the only seating my daughter had was a big clumpy tumble form chair and her Wizzybug. Everything else was on normal seats being propped up by a gazillion cushions whilst still flopping over, floor play was nigh on impossible and bath time out of her own home was a nightmare.
We stumbled upon an amazing little floor seater which has literally changed all our lives for the better. I had no idea that such a small piece of equipment would be such a deal breaker.
To look at it, it is literally just a moulded piece of hard PVC with a small non slip pad for beneath the bottom. It is extremely strong and very lightweight and at present I just carry it around with me in a small cloth bag. We don't go anywhere without it.
The website https://fledglings.shop/products/floor-sitter markets it just for floor based activities for when the child needs to join in with something without fear of falling backwards or being knocked by another child and states the following…
Postural support for floor based activities
For school, home and community use
Easy to position the child
Small Floor Sitter: D250mm (10″).H170mm (6½"). Front width: 300mm (11½"). Width of back (internal): 150mm (6″)
Large Floor Sitter: D350mm (13½"). H190mm (7½"). Front width: 350mm (13½"). Width of back (internal):190mm (7½").
The price tag is quite hefty at £75 (for what you actually get) but when you work out the list of pros, it's a priceless bit of kit for us.
Although I would always say only to use as per manufacturers guidelines, there are numerous ways this floor seat may help your child. A few ways we have found it helpful are as follows and mostly to ensure maximum inclusion with all activities everyone else is doing…
bath time on holiday
Sitting at the edge of a swimming pool to splash legs etc
in a pushchair as extra support
on a beach to play in the sand
In the sea so they can have waves splashing over them
In playgroup /school for story time
On bar stools at home / out to be at the same height as everyone else
At picnics on the blankets
At restaurants and cafes for sitting at a table
On chairs to do any table based activity
Opening Christmas / birthday presents on the floor!
Birthday parties for pass the parcel and food time
Sitting on the edge of the bed to help fold clothes
Blow drying hair / brushing hair (where the force can pull the person backwards)
On public transport / boat rides
At cinemas and theatres when all disabled spaces are taken
Fairground rides and trains
All floor based games and activities
Used on a sled in the snow
Literally anywhere where you think your child might need to sit and be included in something, of course there are excellent powerchairs around which fulfil some of the above but when space is limited or maybe where access isn't available for a wheelchair, this piece of kit is excellent.
The best thing about it for us is that it is so portable and lightweight which cannot be said about many disability aids.
The two sizes allow for smaller and bigger children to benefit, at the moment my daughter has the small size and she is coming up to 5 and weighs 15kg, I would estimate we would need the large size by age 6.
There are numerous floor seats on the market, most a lot more expensive than this one and hopefully have already been supplied by your OT but if you are looking for something portable and 'cheap' with multi uses then this is a must.