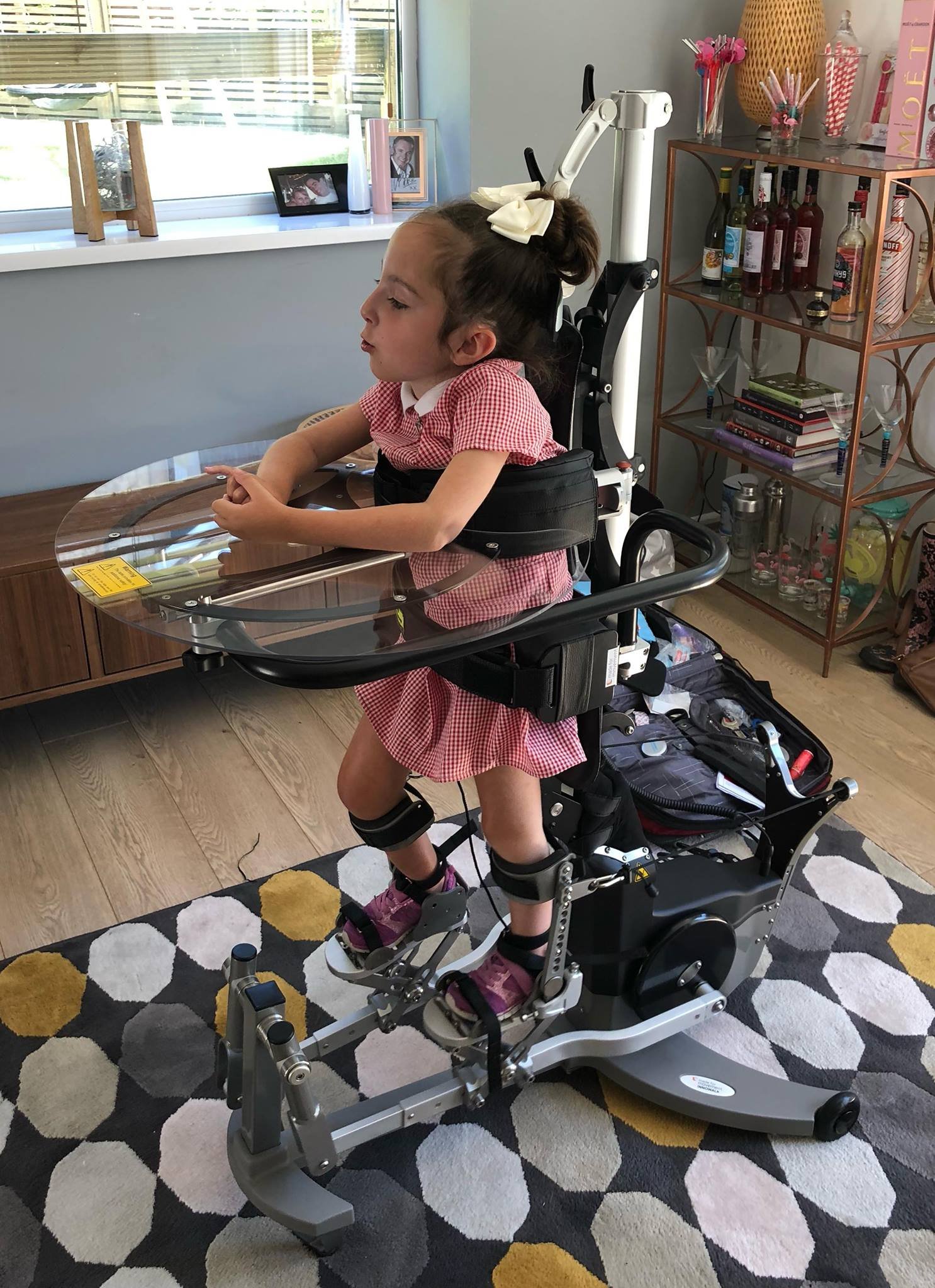 Please note this is not an official Innowalk post, this is a review compiled by an owner of an innowalk who has no affiliation to the company and the views are their own
*
As the website will state "The innowalk is a 3 in 1 device for sitting standing and moving. No independent ability to stand or walk is needed- the repetitive movements in an upright, weight baring position improves gross motor skills and reduces risk of negative health outcomes".
Although not officially approved for use with SMA (e.g: currently not funded by NHS!) there is a current study ongoing abroad with the Innowalk with children with SMA and with those on Spinraza to assess the benefits.
If you go to www.madeformovement.com it will talk you through all the health benefits of the innowalk (including the main issues people with SMA face such as bone density / respiratory health / gastro function / stretching of muscles and joints). All of which are said improve with the innowalk.
What the website fails to tell you is the price! A child has recently become the first in Wales to receive the machine (via self-funding unfortunately) and can advise on the process and cost as follows…
1 – Make contact via the Website www.madeformovement.com
2 – They will put you in contact with a distributor in the area, for the UK this is [email protected]
3 – A rep from Vida will then make contact with you to arrange a demo
4 – Demo Day! They will bring a machine for your child to try out and talk about extras which may be needed for your child and the size etc. Rep will pass you final cost and details for ordering
5 – Place order with sales office at vida (Prepare to pay half the amount upon ordering)
6 – Sales office will contact you to arrange a set up date when your innowalk is built
7 – Pay the second half within a week before delivery date
8 – Delivery and Set up day!
Please note – this process isn't quick for some areas, for this child in Wales, initial contact was made in September 2017 and the innowalk was received in June 2018, however, it would be quicker in places such as London for example and you could probably shorten the process by a few months if your schedule wasn't too busy and had readily available funds etc…
Now the price – The innowalk seen here cost £12,637 It is the basic small model which costs £10,800, added onto this is a tray costing £783 and this aids your child to push up whilst they are in the machine, also added to this model is the growth kit. This model is for children from 90-115cm and the growth kit will take it to 135cm. The child seen in this video is 105cm and children grow approx. 5cm a year so it is estimated the machine will last her until she is 10-11. The last extra on this model is a hip belt £452.
There are of course lots of other extras which can be added to it depending on your child's needs but of course with this comes the extra cost of parts so expect to pay between £12-15k
There is another size which will take your child through to adulthood but this will cost upwards of £22k+ and isn't suitable for smaller children
The child seen in this video / picture has had her NHS physiotherapist out to see her in the device and was present when the rep came to do the demo so it would be handy to have your physio present to see if it would benefit your child.
Please note that this machine isn't specifically for use for children with SMA and it would be down to the rep and your physio to help you decide if it would be suitable for your needs.
Also charities are not likely to fund this for you outright, you may be lucky with several charities offering smaller chunks of money but you may need your OT / physio to assist you in writing a report about why it's needed etc.
This child's mother has stated the following… " My daughter has had the innowalk for a few weeks and it is already my favourite piece of equipment, we do 20 minutes a day and hope to build up to an hour a day over time, potentially then for use multiple times a day. She is able to push down on the innowalk supports to create independent steps which makes her thigh muscles really work, her physio has helped us to see how we can make best use of the machine so she will use it at different speeds for different physical benefits, slow speed for muscle usage and fast speed for cardio vascular usage. She also gets a fantastic stretch in her thigh and knee joint and her ankles are at 90 degrees so we have been able to move away from the standing frame and kill two birds with one stone – physio and standing both at the same time which for us is perfect as we are always so pushed for time!. I couldn't recommend this product enough! The rep who came out was very lovely and knowledgeable and really put my daughter at ease, she had also heard of SMA before which I was over the moon about as even some health professionals we come across don't know what SMA is!"