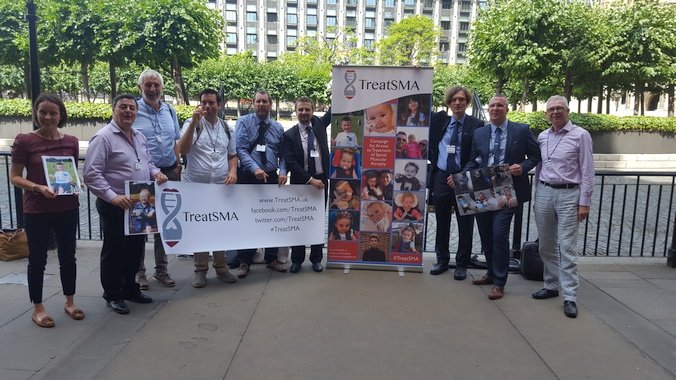 TreatSMA at a meeting at the House of Commons
Today members of TreatSMA and their children attended a Fast Track Treatment Campaign meeting organised by Muscular Dystrophy UK at the House of Commons.

This was an opportunity for MPs to drop in to talk to representatives and people with muscle wasting conditions. There was a Q&A session which was chaired by Mary Glindon MP, Chair of the All Party Parliamentary Group for Muscular Dystrophy. Contributions were from Professor Francesco Muntoni, Director of Dubowitz Neuromuscular Centre at the UCL Institute of Child Health and Great Ormond Street Hospital, London, and Sheela Upadhyaya, Associate Director, Highly Specialised Technologies, NICE.
What came across clear today is just how much NICE is wanting SMA families to put forward their stories.  They want raw insight into life with SMA and are keen to hear what Spinraza could do for you or your child rather than hearing about the devastation SMA has caused. So we ask people to start noting what Spinraza has done done for you for you so far or what it could do for you.
The community input puts human tragedy into the content of figures and economic data. It will play a key part of the decision process. But it is up to the community to collect and present this part.
NICE must work within the framework established, which means that only HST or STA routes for appraising new treatments are available. We and the wider community understand that neither the HST nor the STA route is suitable for SMA and similar rare diseases. Sadly, there is nothing in-between. However, even as STA has been assigned to Spiraza, NICE will use the HST team to move the project further and bring in certain elements from the HST route. Furthermore, a form of Managed Access Agreement will be put in place to help the process. A MAA allows stakeholders to collect data, it allows the NHS to manage funds and it gives earlier access to treatment.
NICE said it would have been an injustice if all types were not looked at across the board, though the price for this number of people will open up challenges.
This is a big precedent and clearly shows that whilst the processes are outdated there is willingness for compromise and change. We are proud to be part of this change.