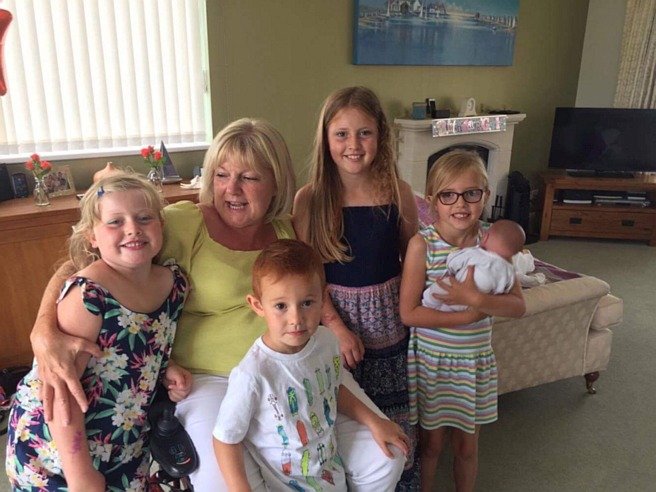 My name is Marilyn, I'm 61 years old and I have type 3 SMA. I sound like I'm introducing myself at a substance abuse meeting! Instead, it's SMA that has abused my body for 61 years, and sadly, no amount of fighting it can defeat it.
I was diagnosed at the age of 3 with muscular dystrophy, very little was known at the time about any of these diseases. My parents were told it was very rare, especially in girls, and that I would be using a wheelchair by the time I was a teenager. My life would not amount to very much. I attended primary schools, but was always put in a 'sick bay' in the afternoon to rest, I hated it, I wanted to be like all the other kids! From then on my fight against that wheelchair began.
Aged 8, I was sent to an 'open air' school in Hayling Island. My dad died very young, and my mum was left with 3 little girls, not only did I have 'this muscle disease', I also had asthma, which meant I was often off school. In hindsight I can understand why I was sent away to school, my mum had to work and there was nobody to take care of me, this was her only option, or a children's home for all of us! There wasn't any help back then. The school was actually nice, I did get homesick at times, I was very young, and parents could only visit once a month!!! I was there for 4 years. I had regular weekly physio along with other sick kids that were also there, I learnt to swim, and gained a lot of life skills living at this school. I also became fiercely independent, I used to really enjoy taking care of other kids that seemed to need more help, if I was helping them it would shift the focus off of me and what I couldn't do. This seemed to set my life's pattern, I found ways of coping and hiding the fact I was 'disabled', or so I thought.
I left that school aged 12, and returned home, ready to start senior school. My asthma was under control, and I was coping reasonably well with the weakness of SMA on a day to day level, but I was never able to take part in sports at school, I couldn't run, a netball would practically knock me over, and floor exercises were out as I couldn't get up off the floor. I was beginning to really feel the effects of being different. What's more, because I didn't really know what was wrong with me I couldn't even explain it to others, and I got a lot of questions about not doing certain things at school. Another thing that stands out in my mind are school assembly's, everybody sat on the floor in the hall, I had to sit on a bench at the side of the hall, all those faces looking at me, I was starting to really hate school. Saying that, academically I didn't struggle at all, at least something worked ok!
I left school at 16. I got a job in an opticians. They always asked me to make the tea, I was good at it, but I couldn't carry the heavy tray, I was so embarrassed that I left after 2 weeks, I felt useless and inadequate. People were not very nice then, if you were not normal you didn't fit in. I eventually got an office job where I was able to sit down to work, with no tea making duties! But there was a double flight of stairs to negotiate! I used to make sure I was at work really early so I could go up the stairs in my slow and difficult way, if I ever had to use the stairs at other times I would hang around waiting, pretending to look for something in my bag, until most people had gone. I did have a couple of friends that would wait with me, but I still felt very conscious of my disability.
I stayed at this job for 3 years and was then made redundant. My teenage years were ok, it's a time in your life when you definitely don't want to be different, I had limits, but always managed to find a way round them. Transport wasn't easy, I couldn't get the old buses (we lived in London) as the steps were just too high for me, and the tube trains had big flights of steps to get on and off the platforms. So I would walk almost everywhere, it took time and effort, but I'm sure it helped me in the long run, it kept me active and maintained the strength I did have.
I met my husband when I was 18, we were together for 5 years. I didn't think anyone would want to marry me, as I wasn't 'normal'! Before we married I had an appointment at National Hospital in Queens Square London, where I had my original diagnosis, I wanted to know about having children and if I would pass my disease onto my babies, were I to have any. At this appointment I heard the words "spinal muscular atrophy" for the first time! Things had obviously moved on since my muscular dystrophy diagnosis, but I was still told that it was unlikely I would pass this SMA on to any children I had, and there was no mention of testing my husband at that time. We got married, it was a big wedding, I was conscious of walking down the aisle and very worried what people would think about me not kneeling down to take our vows, we also had a horse and carriage to take us to & from the church & wedding venue, everyone was so excited about the horse & carriage, but all I could think of was how the hell was I going to get in and out of it!
I always went along with things, I never said No, I'm sorry but I can't do that! I just always tried my hardest to be as normal as possible! Even on our honeymoon we arrived to find we had two flights of stairs to our room! My husband was really kind, always helped me, it never bothered him, but I always felt an inconvenience, and to this day I still do, it's how I feel inside myself. We went on to have 3 daughters, all normal pregnancies, producing 3 unaffected healthy gorgeous babies. By now I had started to research SMA, it was at this time I came across The Jennifer Trust, now known as SMA Support UK. They sent me a lot of information, and it was clear from what I read that this was indeed what I had. I went to see a neurologist privately close to where we lived in Windsor, I wanted to ask him a lot of questions, and also for him to examine our 3 daughters, just to be sure! He was a lovely man, and it turned out he actually worked with the Professor at The National who gave my parents the original diagnosis. He explained there was a lot of research going on and one day, there could be a treatment, but it was going to be years off. He also told me that I would gradually become weaker. During my late 20s to mid 30s I was probably the most stable I have ever been, thankfully, as I had 3 little girls under 6 yrs old to take care of. I was a full time mum, I loved it, they truly kept me on my feet! At that time I investigated the local college, it was accessible for me, so I booked myself on an aromatherapy/massage course, it was a years course, I absolutely loved it, my arms and hands were still pretty good so I managed the massage part well, the teacher just showed me different ways if I found it too difficult. Although it involved standing, I was able to use the massage couch to lean against, this helped me hugely. I was good at something! I had excellent feedback in my treatments, and again, I think being active worked as a therapy for me as well, I was able to help others, but in turn I also benefitted. Thank goodness I passed my driving test before I got married, at least I was able to take the girls to school, clubs & classes they wanted to go to. Anything new they wanted to join, I would always drive there beforehand to check it out, to make sure I was able to go in with them, actually Ive spent a lot of time going to places to check them out! We could only go swimming though if someone else could come with us, so we would do this at weekends when my husband was not working. When we went to their school open evenings, or concerts etc, I always used to stand, as the chairs were just too low for me. Most teachers were ok about it, but there were always the ones that would look me up & down and I could almost read what was going through their heads, because I looked ok, no one had any idea of my disability or how I was constantly trying to hold myself together in an upright position! My family never spoke about it, my friends didn't, neither did my husband, so I never spoke about it either, even when I read about it, I did it when I was on my own… for whatever reason, I lived with my SMA alone! On the outside, I was coping pretty well with life, nobody saw the daily struggles I had at home, I was a brilliant actress, everything in the outside was perfect.
In my mid 30s my mum became quite ill, she had severe rheumatoid arthritis, and was often very unwell, my sisters & me got her moved closer to us so we could help her more, then my father in law died suddenly, my mother in law, who has never understood any illness let alone a complicated disease like SMA, leaned very heavily on us, but it was me that was always the listening ear, it was an extremely hard time in my life. I had a virus, which took weeks to shake off, but I was still feeling ill and very very weak. I was scared, suddenly I was feeling the effects of SMA, whereas before I managed it. To cut a very long story short, it turned out I had M.E., I went to see the lovely neurologist that I had seen a few years back, he diagnosed me, and told me it was probable that my SMA would progress a lot faster now I had M.E., which was more likely brought on by the stresses that were in my life. From then on I noticed changes rapidly, my legs & trunk were much weaker, this limited me a lot in what I was able to do, both indoors and out. I started to ask for help a lot more, my husband was great, but to be honest he was the only one, I did employ a cleaner for a few hours each week as well. I could still cook & do things, but I was much slower, and fatigue would set in much quicker. I didn't go out with friends very often, I was always too worried about low seating, or even normal seating as I couldn't get up again, it was easier to just not go! I suppose I did feel a bit antisocial, I didn't want to be stuck at home all the time. I had to go to things sometimes, like our daughters graduation, or weddings, but these events always involved my husband, I knew if he was there I would be 'safe'! He would yank me up from chairs, almost carry me up steps, etc, in fact at 2 of our daughters weddings, I was carried in a wheelchair up big flights of steps, due to the locations that they chose for their weddings! With things like that happening, and more falls, there was no way I could continue to hide my disability.
In a way, it was a huge relief to be able to talk a little bit about it instead of holding it all inside me. I'm sure that many adults living with SMA who are my age, even 20 years younger, will be able to relate to my story, holding all that inside you is dreadful, many times I felt I had been on the edge of a breakdown, I still don't talk about it much, but at least they know!
I suppose I always felt ashamed of myself, not good enough… We eventually moved to a bungalow about 14 years ago, we had a house with stairs before, and it had become very difficult, and dangerous, I was going up on all fours, and coming down on my backside, and needing help to my feet both ends… ridiculous how long I actually went on like that for! We have made our bungalow wheelchair accessible, with ramps and a wet room. I have never had as much support from OTs, Physio, or doctors that I have now… my husband retired early so he is now my full time 'carer', although I hate that word, and I still do take care of him very much! I use a scooter when we go out, and a power chair indoors and visiting friends or family. I can no longer get out of bed without help, and I need help to get in & out of the shower using a shower chair. Raising my arms is getting harder, my neck is weak, and I notice the loss of abilities coming much faster. My husband is good, but also getting creaky now, I worry a lot about my care, this is why I'm fighting hard now for SPINRAZA for ALL AGES. Getting older is scary, with a muscle wasting disease it's even scarier! Especially knowing there's something that could halt SMA, I could get older with grace & dignity! When I'm sick, or have broken a bone, which I did a year ago, we had to use the hoist, a commode, and get extra hands on help, I was very appreciative of just how good my life was before I needed all these extra things! Even though I'm limited in what I'm able to do, it's vital that our independence is kept to the very best we can, if SPINRAZA can do that, then I WANT IT. I feel it's our right, it's the right of babies to receive it to be given that chance of living their lives, to be able to breathe and eat, it's the right of type 2 and 3 children and adults, to stop deterioration, to help improve their circumstances, and hopefully become less dependent.
My life has not been terrible, but it could of been a lot better, Ive missed out on many things, I could write pages and pages…
I've forgotten about hospital stays, fortunately few, when they have no idea about SMA! They think your pretending not to be able to sit yourself up in bed, or slide over to the operating trolley! Yes, of course, in just pretending!!
I would also love a spa day with my daughters, like ALL other friends seem to have, a trip to London theatre; or a 'few days away' with them… but I'm a liability, I won't put that on them! We do go out, and we do do things, but it's not the same. They don't mind, but I do. I feel I deserve SPINRAZA…